Partner Day goes digital!
We cordially invite our partners to join us in celebrating the achievements of a challenging 2020 and the significance of our international partner community. We are already working intensively on the topics and formats how we can share and discuss ideas together, provide the best insights and develop perspectives together. Let us surprise you - more information will follow in January.
Due to the current situation, we still feel highly committed to the health and safety of all involved and will therefore also be organizing the "International Partner Day" as a digital event. We promise - even virtually it will be a unique, interesting and interactive virtual event!
The International Partner Day will take place on March 25 + 26, 2021.
International Partner Day 2019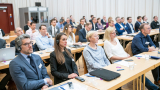 Networking at the International Partner Day
Under the motto "On course for successful growth together", we invited our national and international partners to Berlin on 23 and 24 May 2019. The annual event serves the exchange of ideas and information, shows new possibilities in the software and brings LucaNet and partners closer together.