Better together – Our common quest for greater things.
Being part of a strong community allows all of us to reach higher goals. This is the idea behind our International Partner Day on March 19 and 20, 2020 under the motto "Better together", when we will welcome all of our partners to the historic Spreespeicher in Berlin.
LucaNet would like to warmly invite its global network of partners to a get-together for a lively and inspiring exchange of ideas and experiences in the vibrant German capital. We encourage you to take the opportunity to connect with other partners and learn about important developments at LucaNet. There are many exciting program items on the agenda – both in German and English.
You can also look forward to a special experience for your taste buds in the first evening of the event: We will host a Flying Dinner at the bar THE LIBERATE BERLIN.
Alright then, start making your travel plans to Berlin to meet your colleagues and partners!
International Partner Day 2019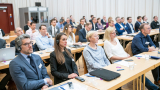 Program of the International Partner Day 2020
These topics await you
Partner program
Product news
Training
Certification
Best practices
Partner marketing
Schedule
Day 1 – March 19, 2020: daily program from 9 a.m. to 6 p.m.,
Evening program - flying dinner - from 7 p.m.

Day 2 – March 20, 2020: daily program from 10 a.m. to 1 p.m.,
Final Get together from 1 p.m. to 2 p.m.
Networking at the International Partner Day
Under the motto "On course for successful growth together", we invited our national and international partners to Berlin on 23 and 24 May 2019. The annual event serves the exchange of ideas and information, shows new possibilities in the software and brings LucaNet and partners closer together.
Accomodation
Which hotels near the location of the day's events can you recommend?
Hotel nhow Berlin
Stralauer Allee 3
10245 Berlin
Hotel Indigo Berlin – East Side Gallery
Muehlenstrasse 13-19
10243 Berlin
Hotel Hampton by Hilton – East Side Gallery
Mildred-Harnack-Str. 15
10243 Berlin
Which hotels near the location of the evening event can you recommend?
Hotel ZOE by Amano
Grosse Präsidentenstr. 6-7
10178 Berlin
Hotel Adina Apartment Berlin Hackescher Markt
An der Spandauer Brücke 11
10178 Berlin
Hotel Radisson Blu Berlin
Karl Liebknecht Strasse 3
10178 Berlin
Arrival
Which airport is most convenient for the venue?
The following airports are available in Berlin:
TXL Tegel Airport: 17 km (to the venue)
SXF Schönefeld Airport: 19 km (to the venue)
General Information
Will film and picture recordings be made at the event?
Yes, by attending this event you agree to be filmed and photographed. LucaNet may use the videos and images in various advertising materials and communication channels. If permission to record and use these images has not been revoked in writing by LucaNet AG, you agree to the use of the materials on the basis of your presence at this event.
Where will the International Partner Day 2020 take place?
The daily events of this year's International Partner Day will take place in the 030 Eventloft at Spreespeicher in Berlin.
030 Eventloft at Spreespeicher
Stralauer Allee 2A
10245 Berlin
The evening event will take place on March 19, 2020 here:
THE LIBERATE BERLIN
Kleine Präsidentenstrasse 4
10178 Berlin
Contact person
Helen Hielscher
Experienced Senior Partner Marketing Manager