Better together – Our common quest for greater things.
Being part of a strong community allows all of us to reach higher goals. This is the idea behind our International Partner Day. Every year, LucaNet invites its global network of partners to Berlin to a get-together for a lively and inspiring exchange of ideas and experiences.
Our partners take the opportunity to connect with other partners and learn about important developments at LucaNet. There are always many exciting program items on the agenda – both in German and English.
International Partner Day 2019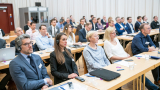 Networking at the International Partner Day
Under the motto "On course for successful growth together", we invited our national and international partners to Berlin on 23 and 24 May 2019. The annual event serves the exchange of ideas and information, shows new possibilities in the software and brings LucaNet and partners closer together.